Electric Man-Down Turret Truck (1.000 / 1.250 kg)
Productivity
The Jungheinrich® 3-phase AC motor and high-output AC controller deliver greater power and quick acceleration.

Unobstructed visibility of the forks, load and travel route helps the operator deliver/retrieve the pallet faster.

Up to two shifts on one battery charge and up to 1,000 hour service intervals means your turret trucks stay on the job longer.

Optional Warehouse Navigation System optimizes truck movement and provides automatic vertical and horizontal truck positioning.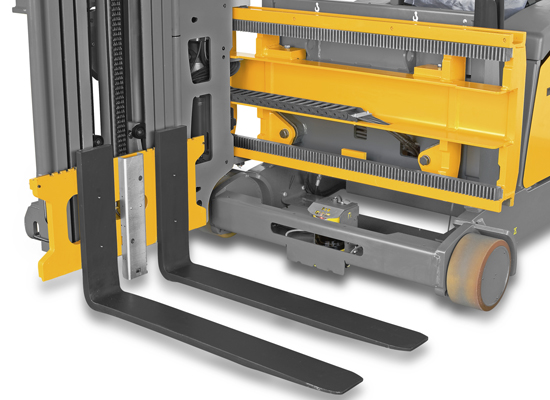 Awareness
Electrically monitored battery locking prohibits the man-down turret truck from driving unless engaged.

Optional Personnel Protection System senses the presence of pedestrians in working aisles and alerts the operator; slows and/or stops the truck as necessary.
Energy Efficiency
Double benefit of energy regeneration – when braking and when lowering – and effective energy management.

Get up to two full shifts with one battery charge in a typical application.

CAN-Bus communication reduces cables and plugs by 70%, increasing efficiency.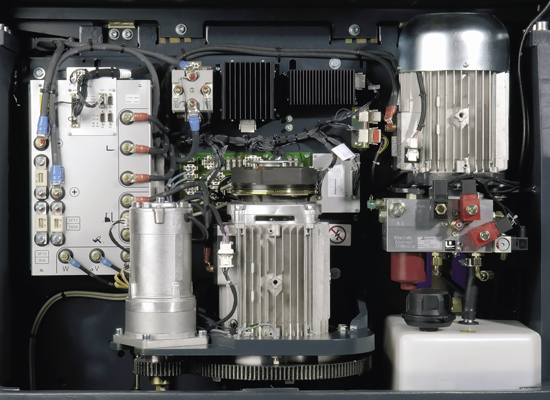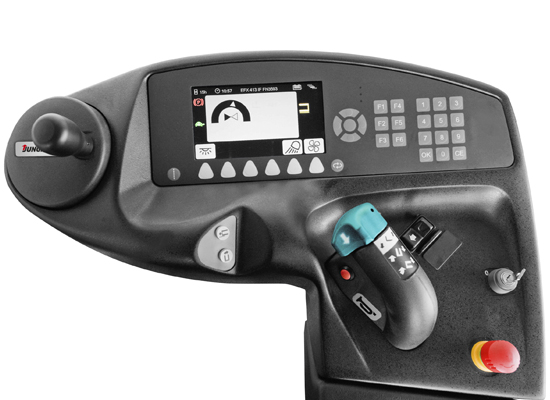 Ergonomics
Cushioned, cloth seat absorbs vibrations and is adjustable for height and weight.

Centrally-positioned control panel includes effortless electric power steering and thumb-activated hydraulic functions.

Unobstructed visibility of the forks, load and travel route reduces operator strain.
Total Cost Of Ownership
Increase efficiency and output with the double benefit of energy regeneration and effective energy management.

Lower energy consumption and run costs due to excellent efficiency of AC technology.

AC motor is designed for greater durability and helps to lower maintenance needs and provide greater uptime.

Electronic systems utilize wear-free sensors.

Jungheinrich's service tool gives technicians the ability to easily monitor and service the forklift's vital functions, helping to maximize uptime.

Extended 1,000 hour service intervals means less maintenance and service over the lifetime of the forklift.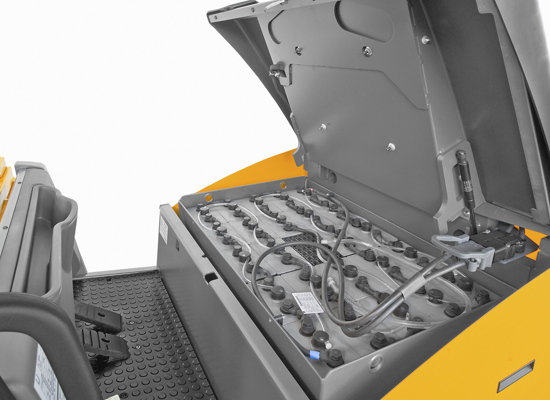 EFX 410-413
The EFX 410–413 turret trucks are designed to provide maximum versatility in very narrow aisle (VNA) warehouses.
Phone
+44 (0) 1224 783 388
Address
Bear Handling Ltd
Hillside Road, Aberdeen, AB12 4RD

Opening Hours
Monday - Thursday: 8am - 5pm
Friday: 8am - 5pm
Saturday - Sunday: CLOSED