11000-16000kgs Counterbalance Forklift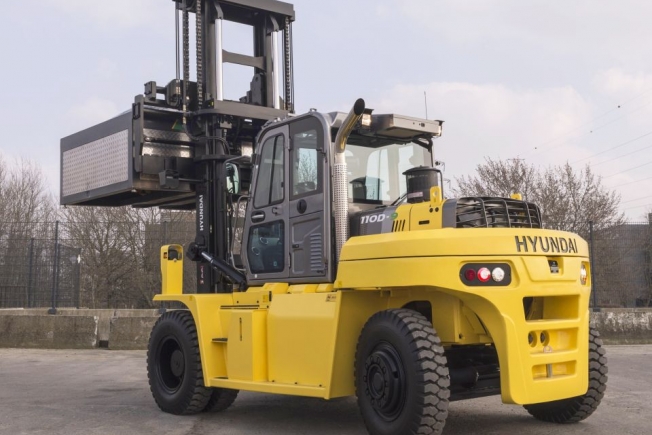 110D-9 / 130D-9 / 160D-9
Heavy Counterbalance Forklift Trucks
All the models in the 11-16T range of Hyundai forklift trucks give outstanding power and reliability for the toughest, most arduous and challenging applications.
These Hyundai heavy diesel forklifts excel in the toughest environments, delivering low cost of ownership in particular in ports and on industrial sites with high duty cycles and extreme operating conditions.
Hyundai 11-16T Heavy Diesel Forklift Highlights:
Cummins QSB6.7 Powerful engine – the six cylinder turbo-charged engine is built for power, reliability, and economy.
Load Indicator – The load indicator displays the load weight on the monitor. The load sensor reduces the time to check loaded weight and the alarm alerts the driver when overloaded.
High-output Air Conditioner & Heater – Six air vents provide continuous air movement around the cabin. No matter the season, you will stay comfortable inside the cabin equipped with head and air conditioner.
Engine Control Module – According to operating load, the operator can select the engine mode by changing side panel switch.

STD mode: Fuel reduction mode for light duty operations
POWER mode: Heavy-duty or operating at slope
Adjustable Engine low Idle RPM – While engine runs, idle rpm can be increased in steps of 25rpm and it keeps previously set rpm when engine restarts.
Load capacity
11,000 / 13,000 / 16,000 kg
Lifting speed unloaded
510 / 510 / 450 mm/s
Travel speed unloaded
35.6 / 35.6 / 35.2 km/h
Phone
+44 (0) 1224 783 388
Address
Bear Handling Ltd
Hillside Road, Aberdeen, AB12 4RD

Opening Hours
Monday - Thursday: 8am - 5pm
Friday: 8am - 5pm
Saturday - Sunday: CLOSED