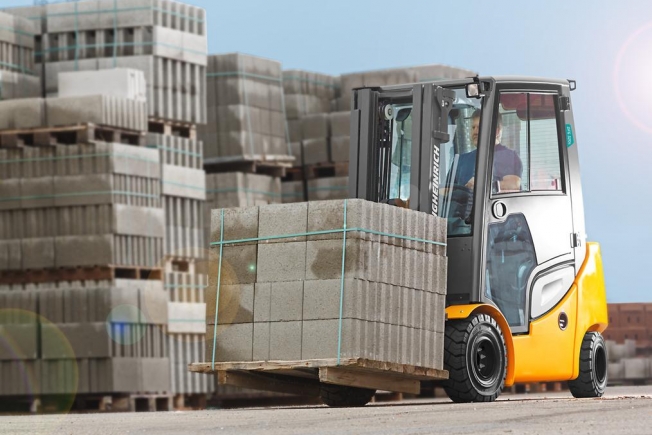 Safety and assistance systems
Comprehensive safety equipment for high drive dynamics and performance.
Trucks with hydrostaticDRIVE offer a comprehensive safety package as standard:
Deactivation of the hydraulic functions if seat is unoccupied.
No uncontrolled roll-back on ramps or inclines due to the parking brake, even with the engine switched off.
Excellent stability due to extremely low inherent centre of gravity and high pivot steer axle.
Damping on mast and tilt cylinders for increased handling safety.
Additional safety for the operator, truck and load due to a range of optional operator assistance systems:
accessCONTROL: The access control system allows operation of the fork lift only if the 'seat occupied' and belt lock detection systems have been activated in a defined sequence.
driveCONTROL: Speed control, which automatically reduces the speed both when cornering and from a defined lift height.
liftCONTROL (includes driveCONTROL): Automatic mast tilt speed reduction occurs from a defined lift height, tilt angle shown on separate display.
Intelligent controls and electronics
Software and hardware for controls developed and produced in-house.
Sensitive adjustment of hydraulic functions via electromagnetic valves.
Splash-proof electronic drive and hydraulic controls in CAN-Bus design.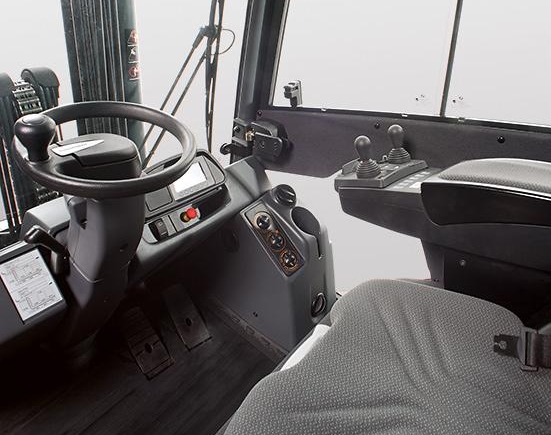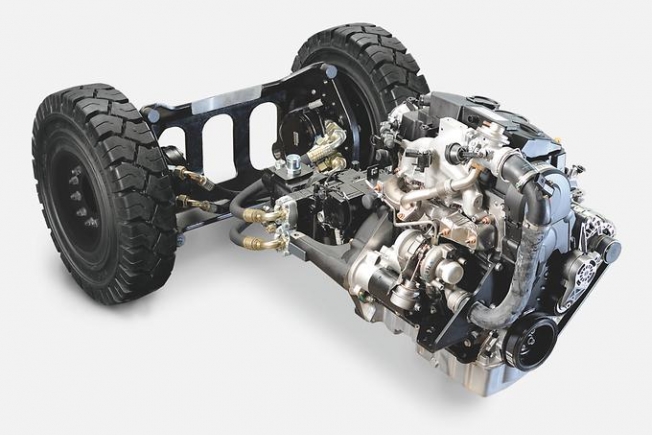 Engines
State-of-the-art engines with performance figures falling far within the strict statutory limit values.
Powerful yet low-consumption engines.
Brakes
The hydrostatic drive allows for completely wear-free braking:
Frequent brake pedal operation is no longer necessary.
Parking brake – sprung-loaded laminated oil immersed parking brake as a maintenance-free, enclosed system.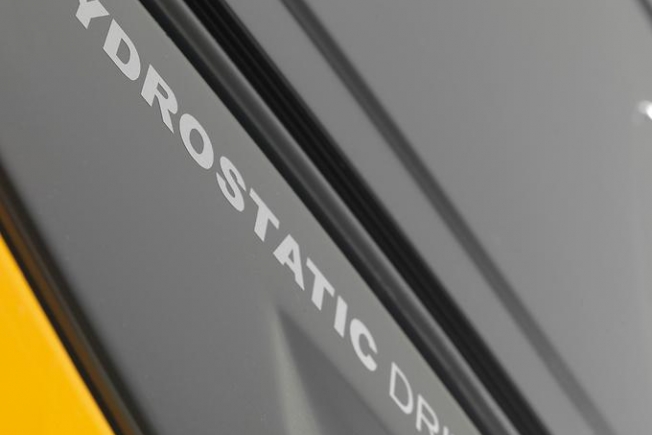 Performance and drive characteristics
hydrostaticDRIVE offers the best energy efficiency coupled with maximum throughput performance – particularly when reversing:
Stepless power transmission and high starting torques.
Electronic control for precise adjustment of drive and hydraulic functions.
5 electronically selectable operating / travel programs.
Performance parameters for every application.
Automatic motor speed increase during lifting and lowering.
Very precise control of travel speed.
Low maintenance costs through direct drive without wearing parts such as the clutch.
Hydrostatic steering ensures effortless and precise steering.
Hydraulics
The high-performance filter system ensures cleaner oil and a long service life for all components:
Full-flow hydraulic oil filtration with suction and return filter for maximum oil purity.
Hydraulic tank integrated in frame.
Ventilation of hydraulic tank via filter
Pressure relief valves protect against excess pressure and overloading.
Phone
+44 (0) 1224 783 388
Address
Bear Handling Ltd
Hillside Road, Aberdeen, AB12 4RD

Opening Hours
Monday - Thursday: 8am - 5pm
Friday: 8am - 5pm
Saturday - Sunday: CLOSED