Electric Sit-Down Moving Mast High Reach Trucks (1000 / 1200 kg)
Productivity
Designed with 3-phase AC technology for drive, lift and steering, the ETV series of high reach trucks offers several advantages:
Rapid acceleration, precise speed control and smooth directional changes.

Greater operational availability due to maintenance-free motors without carbon brushes.

Longer forklift operating times due to energy reclamation during braking.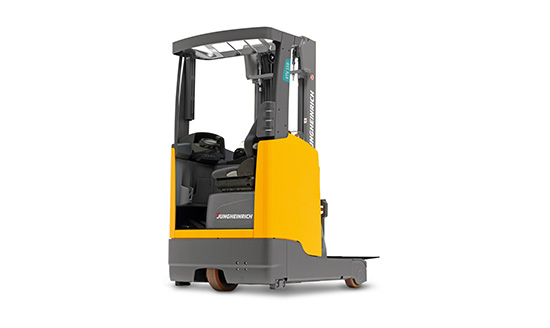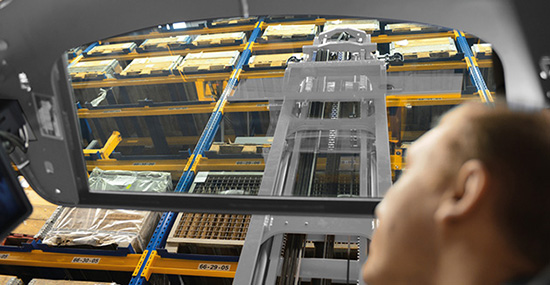 Awareness
These high reach forklifts feature patented mast-reach cushioning, with travel speed automatically reduced to crawl speed if the load is raised above the free-lift height.

Truck performance software can be adjusted to meet your specific drive and hydraulic performance needs or limits.
Energy Efficiency
Advanced regenerative braking recovers energy during braking – feeding lost energy back into the battery.

4th generation AC technology allows the truck to run up to two shifts on a single battery charge in many applications.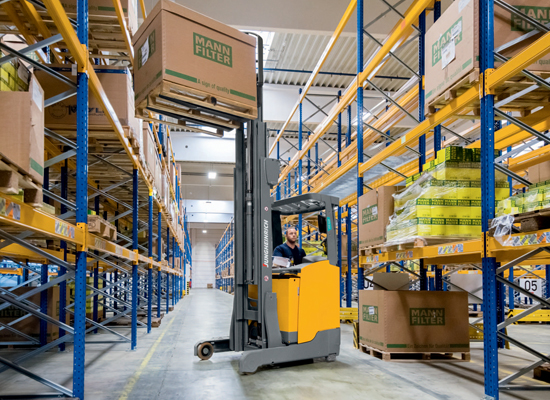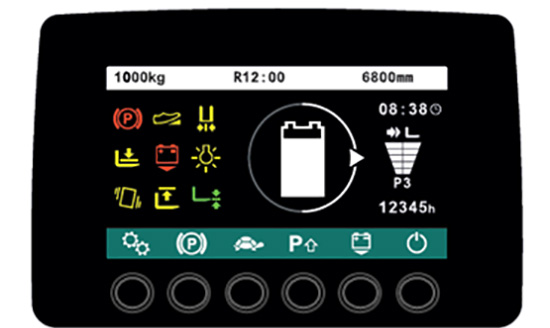 Ergonomics
The reach truck's spacious operator compartment combines comfort and functionality to improve operator efficiency.

3-way adjustable full-suspension seat for maximum operator comfort.

soloPILOT and multiPILOT handles now offer a more intuitive control for operators.

The easy-to-read operator 4" LED bright-color display makes it easy for operators to remain fully aware of truck status at all times.

The sturdy mast and narrow, angled overhead guard promote good visibility to the load even in high stacking applications.
Total Cost Of Ownership
Advanced AC motor lowers maintenance costs by removing wear items commonly found in DC motors, such as contractors, brushes and springs.

Features advanced regenerative braking, which puts kinetic energy back into the battery while slowing down or reversing, thereby utilizing consistent performance and protecting the reach truck from wear.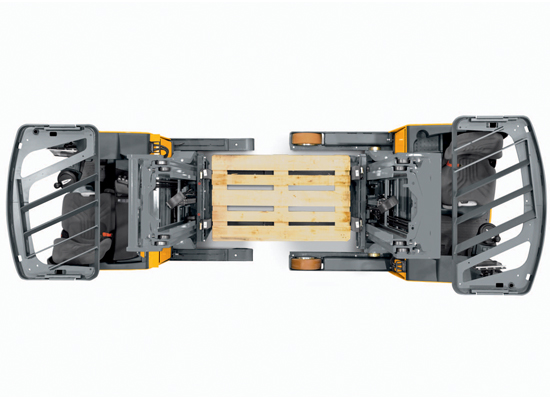 ETV 110/112
The ETV 110/112 high reach lift trucks provide outstanding capacity retention and load stability at high lift heights.
Phone
+44 (0) 1224 783 388
Address
Bear Handling Ltd
Hillside Road, Aberdeen, AB12 4RD

Opening Hours
Monday - Thursday: 8am - 5pm
Friday: 8am - 5pm
Saturday - Sunday: CLOSED