Electric Walkie Pallet Jacks (1.600 / 1.800 / 2.000 kg)
Productivity
The Jungheinrich® 3-phase AC motor and high-output AC controller allow these walkie pallet jacks to deliver quick acceleration and smooth directional changes.

Superior stability of both truck and load with optional ProTracLink stability casters.

Easy operation with the handle in the vertical position using the Crawl Speed button simplifies movement inside trailers and in confined spaces.

Extended run times with the EJE 225E extended battery compartment; accommodates larger batteries, up to 840 Ah.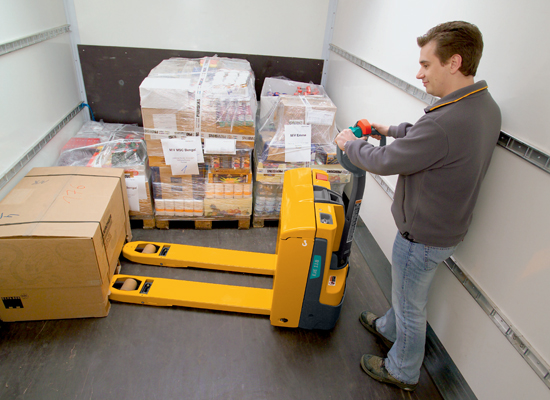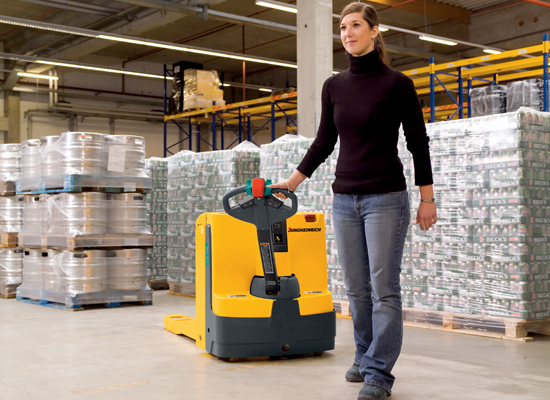 Awareness
"Smart" auto reverse button only operates when the truck is moving chassis first toward the operator.

Optional ProTracLink stability casters help protect fragile loads from tipping during tight turns.

Ramp rollback protection protects against unintended movements while operating on grades.
Energy Efficiency
Equipped with an advanced AC motor with low energy consumption and regenerative braking, which recovers energy from plugging, braking and coasting and directs it back to the battery.

The Jungheinrich-exclusive short battery compartment allows for exceptional maneuverability while achieving extended run times due to Jungheinrich's innovative AC technology. Optional 30 amp integrated battery charger for maximum convenience.

Optional lithium-ion battery (110 Ah) - available on the EJE 120 model - offers fast charging times, no maintenance and a reduction in overall costs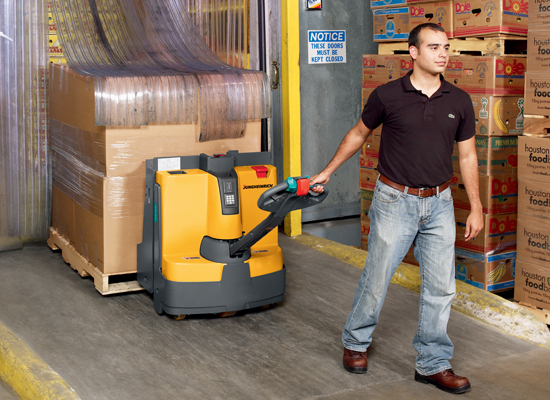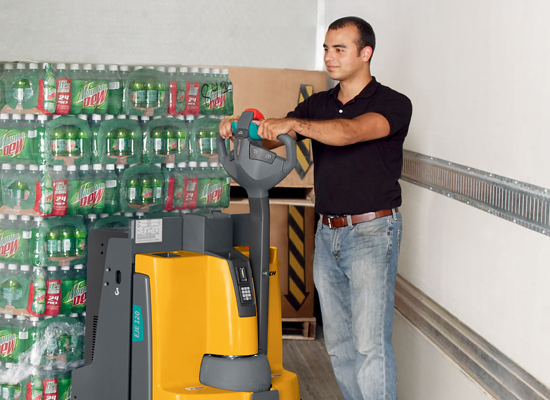 Ergonomics
Unique lift/lower rocker switches allow operation with the handle in virtually any position.

Low-mounted tiller arm provides easier steer effort and keeps the operator a secure distance from the chassis.

"Smart" auto reverse button boosts operator confidence by protecting them against unintended contact.
Total Cost Of Ownership
These electric walkie pallet trucks have AC motors with no wearable components, like carbon brushes or contactors, to replace over time.

Sealed electrical components mean that dust and moisture cannot impact the truck's performance.

Thick, welded forks made from 11/16" solid bar stock steel are designed to withstand the toughest applications over time.

Automatic lift-cutout helps avoid burnout by cutting off the hydraulic motor when the forks reach max height.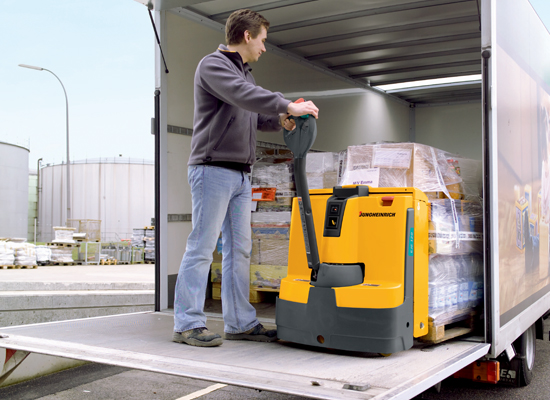 EJE 120/225
The EJE 120/225 electric walkie pallet jacks are specifically suited for loading and unloading trailers as well as transporting loads over short and medium distances.
Phone
+44 (0) 1224 783 388
Address
Bear Handling Ltd
Hillside Road, Aberdeen, AB12 4RD

Opening Hours
Monday - Thursday: 8am - 5pm
Friday: 8am - 5pm
Saturday - Sunday: CLOSED